13/06/10 21:37
Stansted Airport Terminal, Essex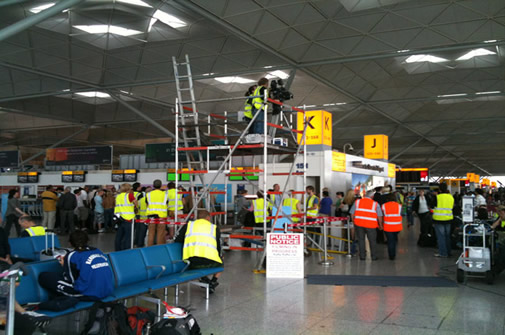 Need an international airport then Stansted is the favourite. Access is good for crew, equipment and vehicles with a great on site team to help the film makers gate what they want. I have previously filmed here with Last Chance Harvey which was on a bigger scale with air-side access and 120 crew for 5 days of filming!

For All in Good Time we needed to stage a chaotic scene where a newly wed couple are seen off on their honeymoon by their family but on arrival at the check-in desks they discover the flight and holiday has been cancelled with no compensation. A high shot was required looking across the check in areas so we had to build a tower for the camera. 150 extras where required to fill the check in area. Airports are tough places to film in, with plenty of paperwork and meetings to be completed before one member of crew can enter the site. Stansted has a nearby unit base and tech parking can be had outside the terminal building.

I think I have now filmed here 7 times in my career!